---
Welcome to a pet project of mine, I first started working on an accessories page twelve years ago, back when this site used to be called Ivy's My Little Pony Page. I am an avid accessory collector and I found myself saving pictures of MOC and MIB ponies off of eBay just so I can find out what they came with. I also got some help a few years back from the Delaney's and also have used Dream Valley as a source as well as a few other web pages out there, but my major source of information has come from eBay. I have spent ten years working on a database for My Little Ponies, when I took my page down for reconstruction one of the first things I worked on was this site. It was not open with the grand re-opening of my site simply due the it's sheer size and I had to make sure all the links were working.


I am still working on improving this site. If you have a MOC and MIB pony that I do not have a picture for a good quality picture for and would like to donate a picture of it to this site, please feel free to e-mail me at ivy@ponylandtours.com If you spot some information that is wrong please tell me!!
Please help me to keep this site growing and as accurate as possible!

Please, keep in mind due to the sheer volume of the information that some of these pages take a few minutes to load.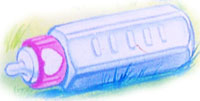 To be as accurate as possible, all pictures are from that country listing cards - US pictures are from US/Canada and US Cards and boxes and UK Pictures are from UK Cards, German Pictures from German Cards etc...unless otherwise noted.
Thanks to Silverdragonfly, ChipsteRJ, Chrissytree and everyone at the MLP Arena and Trading Post for all the help that they have given me on this project!!
---
US G1 My Little Ponies
UK G1 My Little Ponies
Other Foreign G1 My Little Ponies
Loose Comb and Brush ID
Basic Comb
Bear Brush
Bow Comb
Boy Combs
(Condensed Page)
Bird Brush
Butterfly Brush
Dog Brush
Duck Comb
Fish Comb
Flower Brush
Flower Pick
Flutter Pick
Grasshopper Comb
Guitar Brush
Heart Brush
Lollipop Brush
Long Handled Brush & Comb
Misc Combs
(combs that don't fit any other cat. IE Merry Treats)
Moon Comb
Racecar Comb
Rainbow Pony Star Brush & Comb
Seashell Brush & Comb
Star Brush
Star Comb
Star Pick
Sun Pick
Whale Brush